You are good enough. Now is as good a time as any. Accept it gratefully without looking beyond.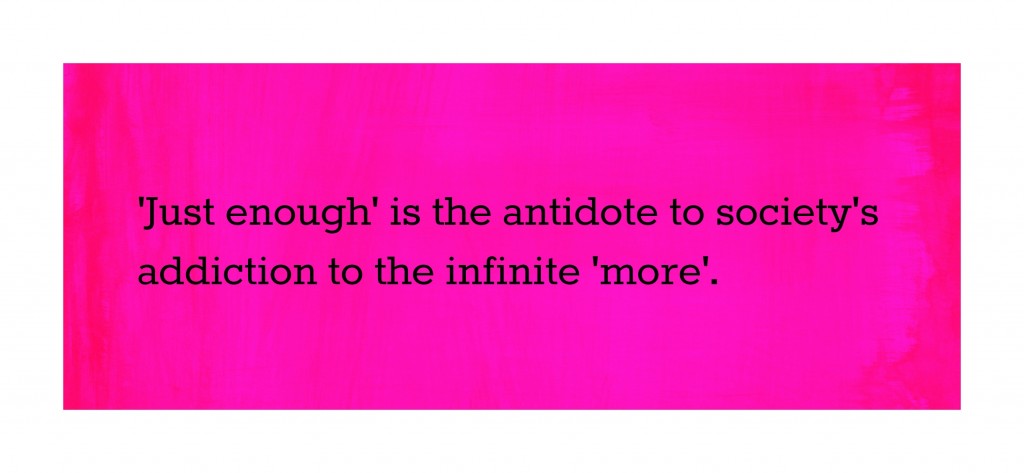 What!? No revolution. No marching bands. No Broadway openings!
Nuff said. You've got today, and today, and today.
So instead of falling prey to the gaping void here's 3 things (more or less) that can guide the way.
1. Start with 'GOOD ENOUGH.'
Yep, surrender to what is.
Try not to sneak in an ambitious life.
I'm not against doing the maximum – in fact, I'm a huge advocate of doubling goals and going the distance — but sneaking is never ever enough, and most days opportunities are right there in your ordinary – handmade – everyday – backyard.
(Some good folks call this the lowest hanging fruit – you know, taking hold of the sweetness that is easily within reach and choosing things that can be done now.)
2. SIMPLE is as simple does.
Don't make it complicated.
There's so much freedom in simplicity. It gives us a chance to attend to things that are important – and to put our energy into things that we actually need, when we actually need them.
Because one of the worst uses of time is to do something well that need not be done at all.
Go ahead. Simplify and drop the non-essentials.
3. BE GRATEFUL for what you have. Why? Because it opens doors.
Shout it out to the heavens above. "Dear world, you are e-f-f-ing lovely."
It's beautiful and surprising how contented one can be.
Take it in.
Really, truly, try exhausting this one principle.
I know, I know, this is so hard because it asks that we slooow down, stop overthinking, and appreciate what's already working.
Instead of "tomorrow", "next year", and "someday maybe" … try filling in the blanks.
Here's what's good enough right now, right here __________ __________ and ___________ !
ZOMG! You are so awesome.
If you got this far. I want to say, I AM SO GRATEFUL!
*