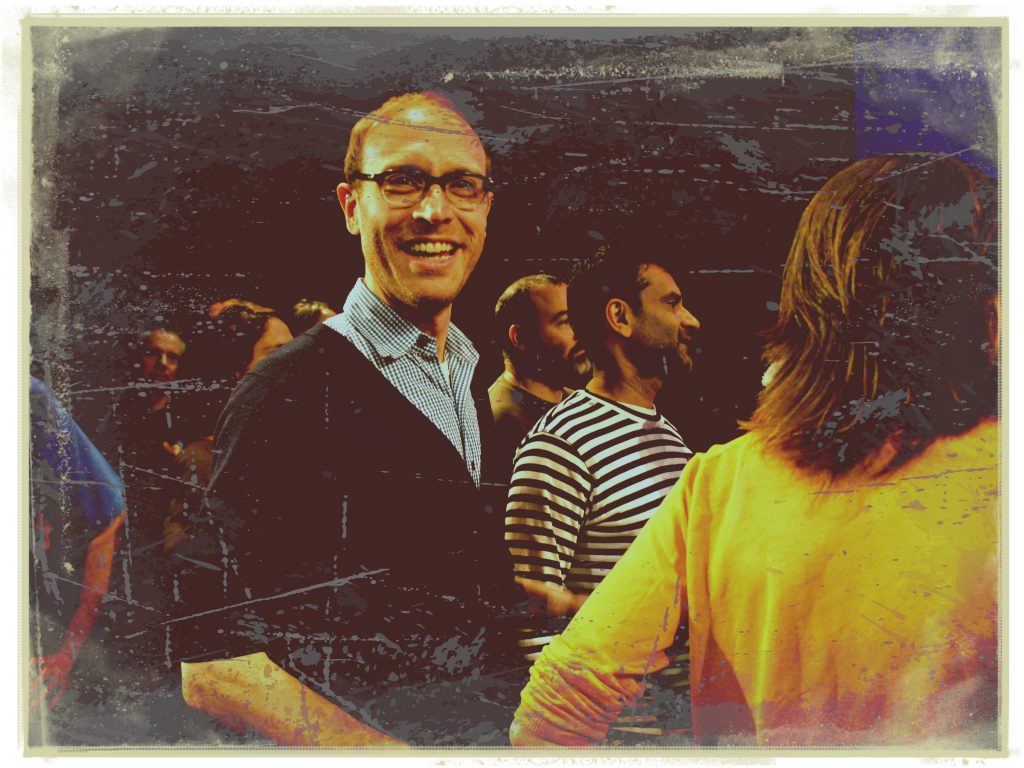 in celebration of listening
JANICE: Let me set the stage. It's 12:30 in the morning and we're hanging out sharing a burger and a beer after Clayton's 10 o'clock performance in PROJECT: LOHAN produced at LaMama in NYC.
Can you tell me how many characters you play?
CLAYTON: The funny thing is I haven't actually counted. Lets see, the Reporter, Michael Lohan, Mr. Blackwell, Paris Hilton, James G Robinson,The Old Lady Neighbor, America Ferrera, and the Fro Lady (who gets her fur stolen and baby killed). I think thats it.
I'm on stage, back and forth, with a total of 30 costume changes. There's 66 wigs in the show and 127 costume changes overall. From the tech side, the stage manager has to call more than 172 cues. Apparently, more than Pricilla on Broadway.
JANICE: This is a super entertaining, very campy, late night, downtown show. What have the houses been like?
CLAYTON: We pretty much sell out every night. We've gotten a lot of press and great coverage on blogs. The show dove-tails peoples interest. People are naturally obsessed and have a weird fixation on Lindsay Lohan. Even if you don't follow her she peeks your interests.
JANICE: It's awful to say, but the train wreck of her life is very intriguing and very entertaining.
CLAYTON: It's obviously an over the top cartoonish-comedy with drag queens. And at the same time there's this authentic underlying tragedy. My friend Emily said it's the most disturbing show shes seen.
JANICE: I agree. So what's it like to perform at LaMama? It used to define Off-Off broadway.
CLAYTON: LaMama is an interesting place since Ellen Stewart died. They don't define Off-Off broadway but they're the only ones left standing. No other company from the 60s still exists. The Living Theatre is back- but this is the only theatre that has continuous uninterrupted new works. When Ellen Stewart was alive she would pick her shows by holding the script and intuiting her choices. She never read the scripts.
JANICE: Well, that explains a lot.
CLAYTON: (Laughs) They're doing what they can to keep things alive.
JANICE: You've had an amazing couple of years with a string of really nice jobs. Can you say something about your career track?
CLAYTON: Truthfully, it began with your encouragement to single out the one thing that I excelled at. To identify my gift or talent and pursue my work from that place. What I came up with was people. It wasn't specific to the industry. It was about building a community and making connections. Doing this show is based on an old friendship. I would not work for next to nothing, grueling, impossible schedule just for the work. Those days are over. A huge part of my own experience has been about learning how to say, "no", and working with the people I admire. This is the 5th show I've done with Darcy. (Writer/Creator Project: Lohan)
JANICE: And this is very much your brand.
CLAYTON: Yes this show is a little bit of my street-cred.
Good relationships have led me from one job to another. I ended up doing The Sea Museum in an abandoned subway tunnel which led me on an Australian tour of Dance Marathon. All the shows I've done this year, there we're no auditions.
JANICE: But you do send out a newsletter periodically. You know, I actually read that newsletters have gone the way of 8 tracks?
CLAYTON: I don't buy it. This last newsletter, I got 20 very thoughtful considerate replies. As if, I wrote them personally to each person.
JANICE: Well you've created a very personal letter with great content and an engaging story. People must love connecting.
CLAYTON: Yea, and I love sending them.
JANICE: Can you share any great success habits or professional routines?
CLAYTON: The most general answer first. How important it was to not burn out. Not over due it. Not ignore my needs. To find things that fuel me outside of the theatre. For a long time, a lot of that was filled by seeing theatre. I regarded seeing theatre as fuel. But it got to the point, pretty quickly, where it wasn't enough. That led me to seek out a lot of other stuff.
JANICE: Like?
CLAYTON: Meditation is certainly the biggest one. It's twice a day, everyday of my life. I've been doing it over a year and a half now and I haven't blinked. I don't think, what a pain in the ass, I have to do this again. It's just become a part of the way I do things.
JANICE: Can you believe you're saying this?
CLAYTON: No. I always hated and resented meditation. I thought it was really annoying. It never worked for me. But it has turned around and enhanced everything else I do. I'm more ready, more engaged, more energetic. The other thing for me is the Manhattan's Community Board Five. I've just been re-appointed to my second term. Its a different side of my brain. With all of this, I really feel like I have a life in New York that is workable and that is sustainable.
JANICE: Awesome. So whats next?
CLAYTON: The next thing for me is to write and build my own work. I'm seeing material shaped in so many surprising ways. I don't know what it means but I know I have it in me. I just haven't gone there yet.
JANICE: Wow, I love how things have turned out for you. Thank you for sharing. Really, thank you very much.
CLAYTON: Oh, yeah, this was fun!
*