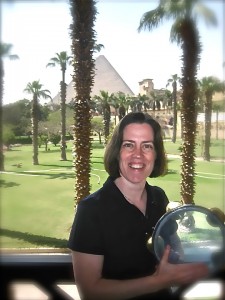 in celebration of listening
JANICE: Mary Anne thanks for agreeing to share your story and to talk about your business Toning The Om.
I want to jump in and ask about your blog roll which includes Channeling, Happiness, Shamanism, Healing, and Storytelling. I'm thinking, WOW, poles apart from business and career topics typically found on a coaching website.
MARY ANNE: I think it was always about choosing something a bit different. For some it's a little woo-woo and out there. The people that are going to come are the people who want to tap into something more purposeful, holistic, grounded, and spiritual. Not that I don't have business executives. I work with CEO'S, managers of banks, and people who have been in successful businesses for 25 years, and they're burnt out. They've put in their dues. They've run the race. They want something else and they just have no idea where to start. This work gives them an outlet.
JANICE: Where did all of this come from?
MARY ANNE: As the story goes my mother passed away in 2000, two weeks shy of her 56th birthday. It was the deepest grief I had ever experienced. I tried everything, exercise, therapy, sleeping, everything under the sun. I was depressed and didn't know what to do. And then a friend invited me Upstate New York on a Native American Medicine Wheel Retreat where she taught.
I started to do the drumming and the fire ceremonies and all of a sudden something happened. Something opened. It was the rhythm of the primal drum. I was so drawn to the drum that I bought African drums, Egyptian drums, instruments from Cuba, India, and all around the world. I started to become this awakened person. And I don't play an instrument. I tell people, if your heart beats, you can drum.
JANICE: I love the name Toning The OM.
MARY ANNE: I was on my way to Minnesota to lead a drumming circle and I wanted to give it a name. I took out a piece of paper and the second name on the list was Toning The Om. And that was it. People started asking when are you doing the next one and the next one. And little by little, I added classes on meditation and chanting and forgiveness. It all just spiraled into this international healing arts company.
JANICE: This morning you tweeted a quote by Chip Conley. We can either have a job (survival), a career (success), or a calling (transformation). Is TONING THE OM a calling?
MARY ANNE: It is a calling. I'm so humbled and in awe of how much trust people give to me with their lives and their stories. There's a movement. It has a heart beat. I always say, from the deepest grief to the greatest grace.
JANICE: From grief to grace, that's beautiful. And storytelling? How does that fit into your work?
MARY ANNE: Everyone has a story to tell. I came here with only $200.00 in my pocket or I'm from the South Bronx. It's the power of story that connects us. People need to hear and tell their stories. Many of us are very busy in the doing, the business planning, and the bill paying, but they've forgotten why they've even started. It's about shining the light on that which is right there but we don't always see. The story give us that. The coaching gives us that. Shamanism gives us that.
JANICE: A Shaman isn't someone we encounter every day. Tell me what it means to be a Shaman?
MARY ANNE: It's a medicine person. It's the person who goes between worlds. The unconscious and the conscious. To put into alignment the energetic body which is always moving, which is always active. To tap into the gifts and to witness healing, whether it's physical, spiritual, emotional, or mental. I work basically with the energy body. People come who are feeling depleted or exhausted or have chronic physical complaints. It's the Shamans job to be the in-between and say 'what's in the way of your healing'. We do this through breath work, through sound, through gifts, through illumination and through soul retrieval.
JANICE: Were you a practicing Shaman before you started Toning the Om?
MARY ANNE: The Medicine Wheel was two years of Shamanic weekends, and the third year, I apprenticed with my teacher. After that, she said, you're on your own. You need to see people on your own, because your too gifted not to. I was petrified. I was thinking who was going to see me? Talk about doing it afraid. That's my living line. Do It Afraid. Do things despite yourself and see what happens. So, I sent out emails and told people what I was doing. I don't even think I had a website at the time.
JANICE: It's so rich and specialized and I can see how this is a movement towards grace. But what about the everyday sacred?
MARY ANNE: That's the most important question to ask. Everything can be prayer and everything can be a living meditation. I'm not always good at it. I scream at I-95 when I'm in my car, just like the rest of us. But in the morning on the subway, I choose what I listen to. A particular chant. I can set up my office in a particular way that has the cloths from trips around the world. My office has a drum, it has a rattle, a stone, and a feather. I take 10 minutes every morning just to be quiet. I block time in my outlook, once a week, and make a meeting with myself. And I choose in that hour what to do. Sometimes I write, sometimes I sit quietly. The work, as I see it, is always about integration of mind, body, spirt, work and family. Practicing how to integrate.
JANICE: You're also a writer. I'm always reading your blog posts to see what's on your mind.
MARY ANNE: Other than the Lady Gaga one?
JANICE: I didn't see the Lady Gaga one.
MARY ANNE: I LOVE Lady Gaga. I went to her concert and there was a lot of teenagers. She got up there in these amazing costumes and said, "If people put you down, don't believe it. People made fun of me, and I'm up here singing at a sold out concert in Madison Sq. Garden, having the time of my life. " And I started crying, and I turned around and all these teenagers are crying too. Because you can't hear that message enough. Everyone needs to hear that they're perfect just the way they are.
Related Posts:  Listening Tour (Clayton Dean Smith)
_______________________________________________________________