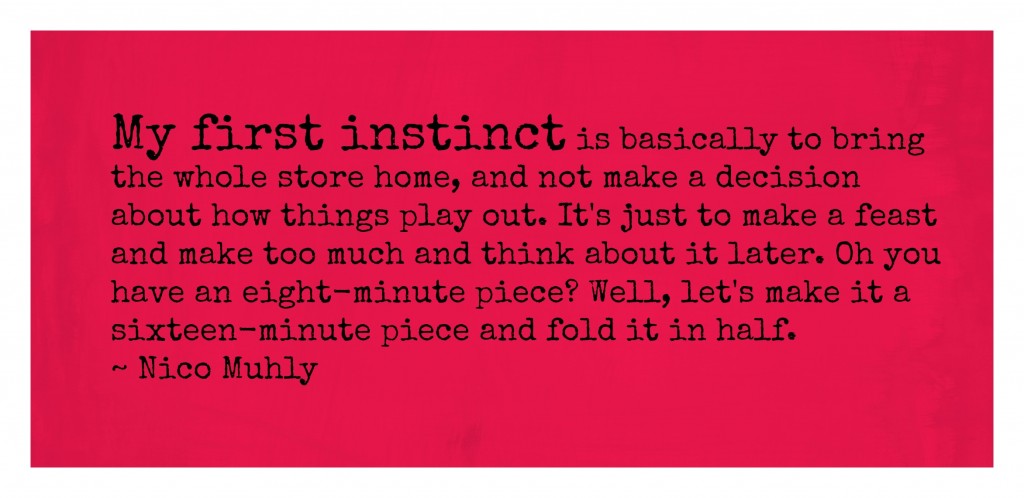 I witnessed an unforgettable conversation at the NY Public Library between Nico Muhly, the youngest composer to premier at the Met Opera, and Ira Glass, host of This American Life. Muhly frequently spoke of obsession and how composers deep dive into complicated and sometimes century old music just to uncover one small dissonant sound; creative obsession taking them down a rabbit hole, sparking a love affair, and rekindling fresh stories and sounds.
Nico Muhly's TWO BOYS made him the hottest composer on the planet.
We romance our goals by sitting in the center of our curiosity,
by dressing the part and serenading our muse, and by taking the goal by the the balls, (yes, goals have cojones) and saying, I'm with you darling, let's go.
It's a smoking hot entanglement.
If obsession seems too prickly, try romancing the creative fires through reverence and prayer – by asking to be uplifted and pushed to the edge of your calling.
Kneel before the Gods and ask, "What will you have me do next?"
If the divine feels tame and out of reach – touch the invisible by caring for your dreams. Those night tales where you show up naked at your best friends wedding or encounter a great bear in the middle of the boardroom.
Nurture these mysteries. Work them, water them, and use them to ignite your creative powers and goals.
Or simply pull a few heart strings by taking one gusty move every day in honor of your inklings and ideas.
365 bold moves is nothing short of FIERCE.
When we take the time to woo our projects – when we turn them into affairs of the heart and we're engaged in something that feels valuable and consequential – then it's naturally easier to start and stay with it.
PLAY OF THE DAY
Write a love letter to your most meaningful goal on the best paper using your favorite pen. Seal it with a kiss, bless it with a meditation, and open it again a year from now.
Related Post: What A Life – What A World – Listen For The Theme
*