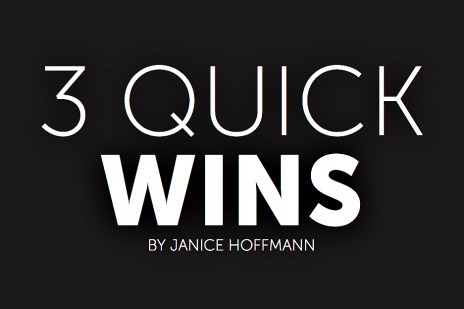 2015 is in full swing and while this is a time of great excitement and profound resolutions, I also notice that the New Year doesn't always start off full of everything …
What if your headspace is in a funk and you can't imagine moving from "meh" to gung-ho confidence + joy?
I know, because I've been there.
And, what if I told you that it's possible to kick that funk to the proverbial curb and float your Happy New Year boat, instantly?
Guess what?
I went ahead and made up a tiny movement to help you do just that!
I call it THREE QUICK WINS. It's a super laid-back but ultra-effectve practice that brings straightforward victories, lickety-split.
Crack. Snapple. Pop
Win, win, and win again.
Here's how to join in:
:: Download the 3 Quick Wins worksheet
:: Share your daily quick win on any social media network by using the hashtag #3quickwins
:: Relish in your victories and snag cheers and love bombs from yours truly 🙂
That's it! Easy breezy.
PS.
By the time you read this, I'll be hanging out with the Polar Bears on Coney Island and snapping up some frigid photos.
But on the hotter side, for the first time in NY, I'm offering a very real and radically cool goal setting workshop.
Where: QED
When: Jan. 10th 2015
PPS.
I actually did wake up thinking 2015 is going to be epic … so, Happy New Year Sweet Unicorns, and thank you for being in my world!